[Fashion] Mustard Knit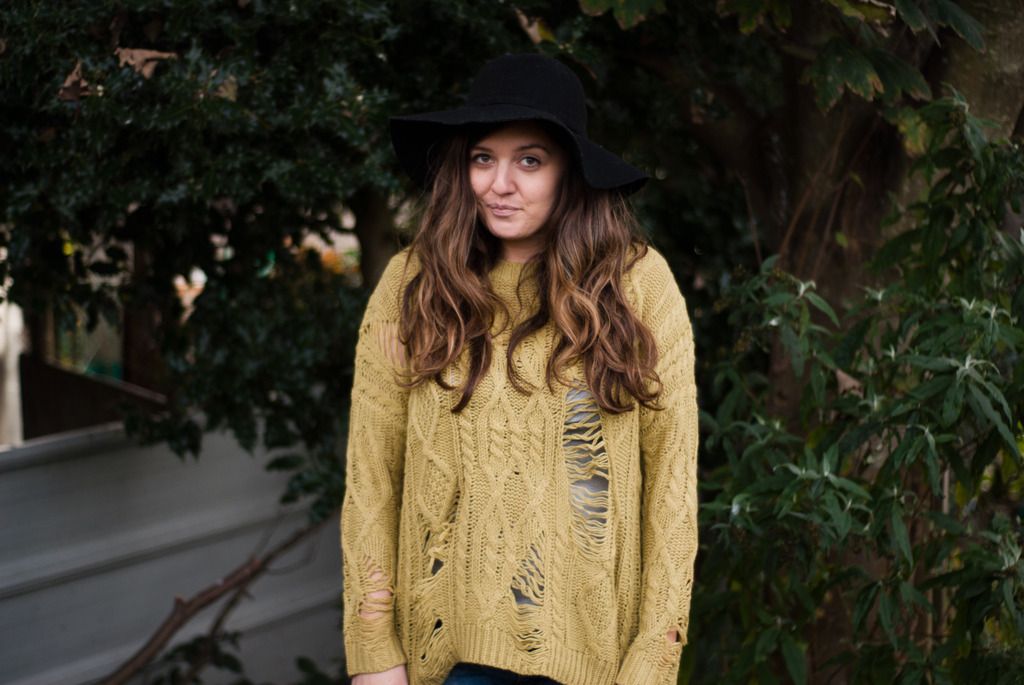 Wow it's been a while since I did a fashion post especially without a big old bump sticking out. It's funny because when I was heavily pregnant I just wanted to be able to wear "normal" clothes again and now I miss having my bump. Weird because we are completely in love with Edith but having a bump was kinda nice. Haha, the things our bodies make us feel!
Anyway, I vowed that I wouldn't wear leggings for a while and I've stuck to that. I think I've lived in my jeans since a few days after having Edith. It's a great season to be able to wear nice clothes again as big cosy jumpers, boots and ripped jeans are totally my "thing".
Growing up my mum and I would head into town every Saturday afternoon and it would always result in looking at clothes. I can remember my mum loving bright mustard tones and I told her I hated them (such a moody child haha) . My mum has always had a love for brighter colours and although I won't be embracing lime green ( a shade that suits her so well) I have ventured a little bit away from black.
This beautiful jumper is from the
limited edition range on Luxemme
and as soon as I saw it I knew I had to have it. Not only is it a gorgeous colour but it has the rips in it too. Oh the fun my brother and the Mr had telling me there was rips in it, like I've never had that joke before. It's a great piece as I can layer a vest top underneath which I have to do with breastfeeding. Layers are my best friend right now.
These boots are beauties. I bought them for our works Christmas party 2 years ago and they've been sitting in my wardrobe for a while. They are pretty high and for running around in the day I don't think they'll be useful but for visiting my mama and other little trips out they are perfect, even if they do make me taller than the Mr.
I finished the look with a hat. I do love a floppy hat and I still need to purchase a fedora. I'm pretty sure that as long as you have long hair you can pull a hat off! This outfit is just perfect for Autumn and I can see myself living in variations of it.
Happy Sunday folks!
Although the jumper was sent to me for my consideration, All opinions on the the product are my own.
Read my disclaimer here.