[Food] Easy "Taco" Salad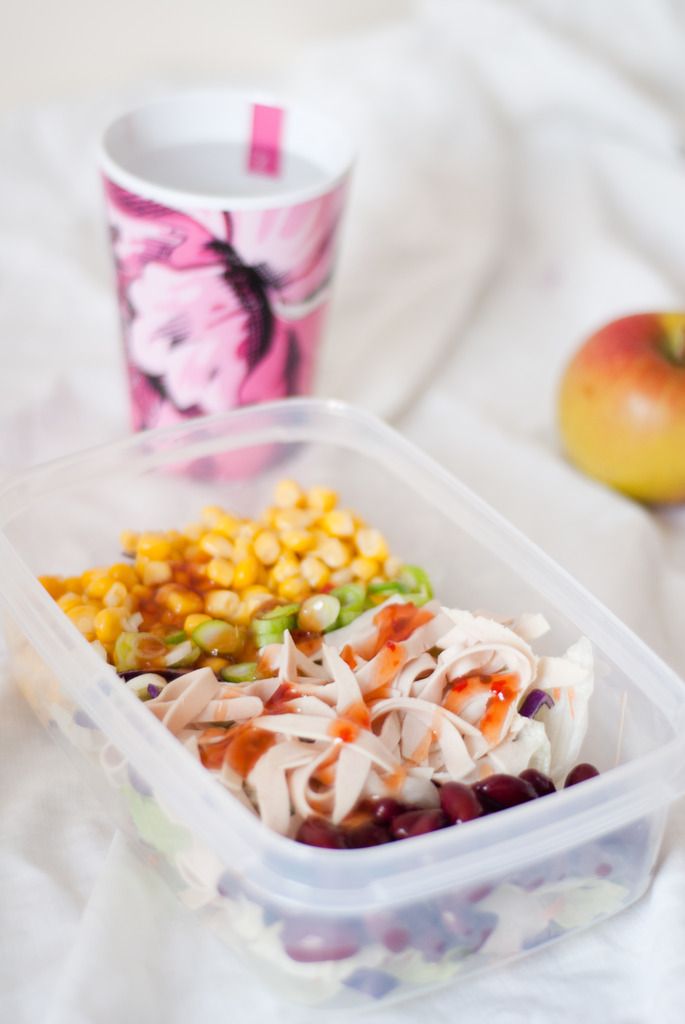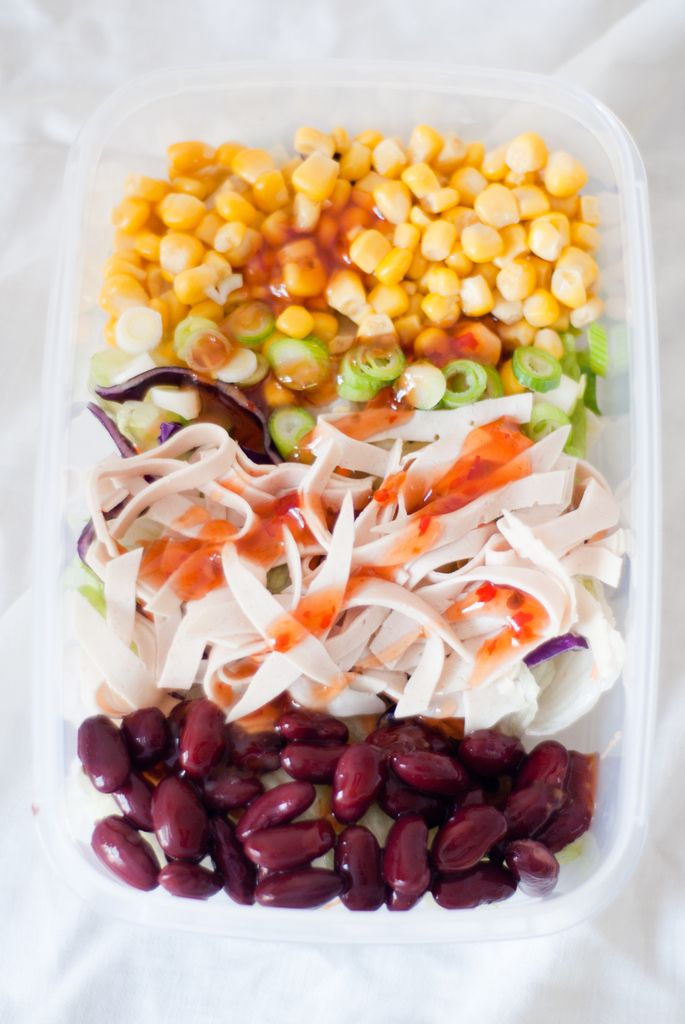 I often find myself rushing around trying to find something that is quick to prepare for my lunch. I have recently been feeding Edith her purees at lunchtime when I eat. If I don't I get huge evils or worse she looks at me, eating every bite I take too, making me feel really guilty. Mama guilt at its finest. So all of my lunches have to be quick to prepare and easy to eat with one hand.
I am in the habit of raiding the fridge and cupboard and seeing what ingredients I can throw together to create something tasty. This time it worked a treat. It's one of those lunches where you can substitute something you don't like or don't have for something else. If you're not a fan of kidney beans, use chickpeas instead, swap the chicken for ham. It's really up to you.
This salad kept me going all afternoon even past the 3 o'clock slump. It's a tricky time of day. Edith normally has a feed around that time and a sleep straight after so it's always tempting to raid the cupboards for something sweet to keep me going but this salad worked wonders and left me feeling filled and with as much energy a sleep deprived mama can have!
The ingredients I used reminded me of what you'd put in a taco or some other kind of Mexican dish, hence the "taco" in the title. Spring onions, sweetcorn and sweet chilli go together so well. Those Mexican's really know their flavour combinations. You could have a few tortilla chips with it if you fancy to make it a proper taco salad.
This is great lunch for on the go, pop it in your changing bag, perfect to pack up for work or make it fresh! Although I can't guarantee it will look so pretty once its shaken up.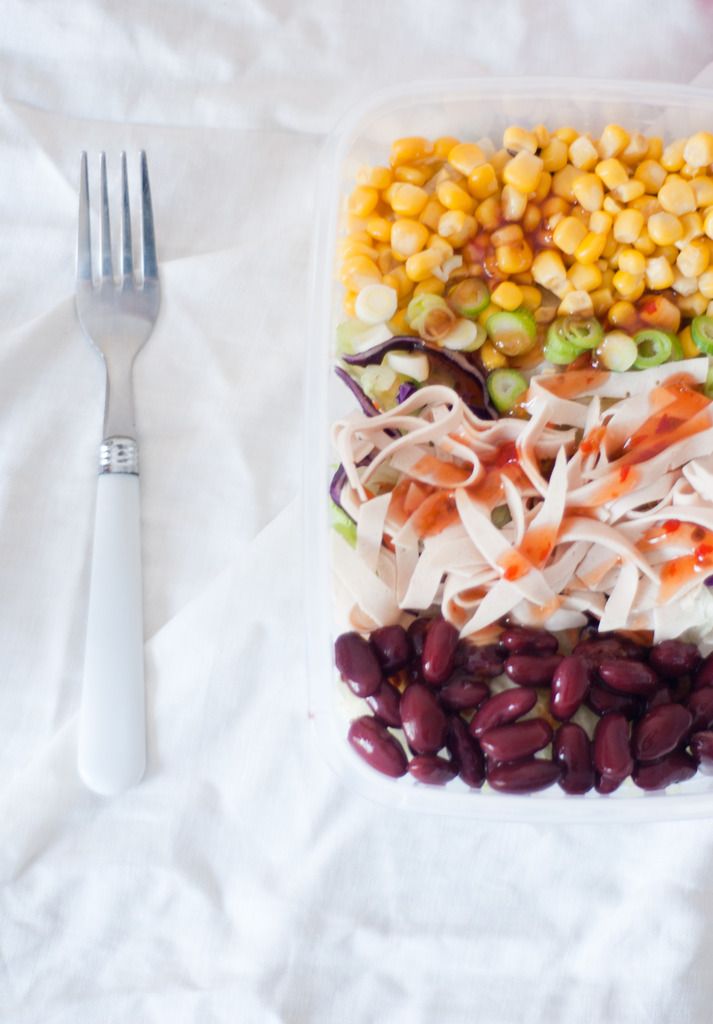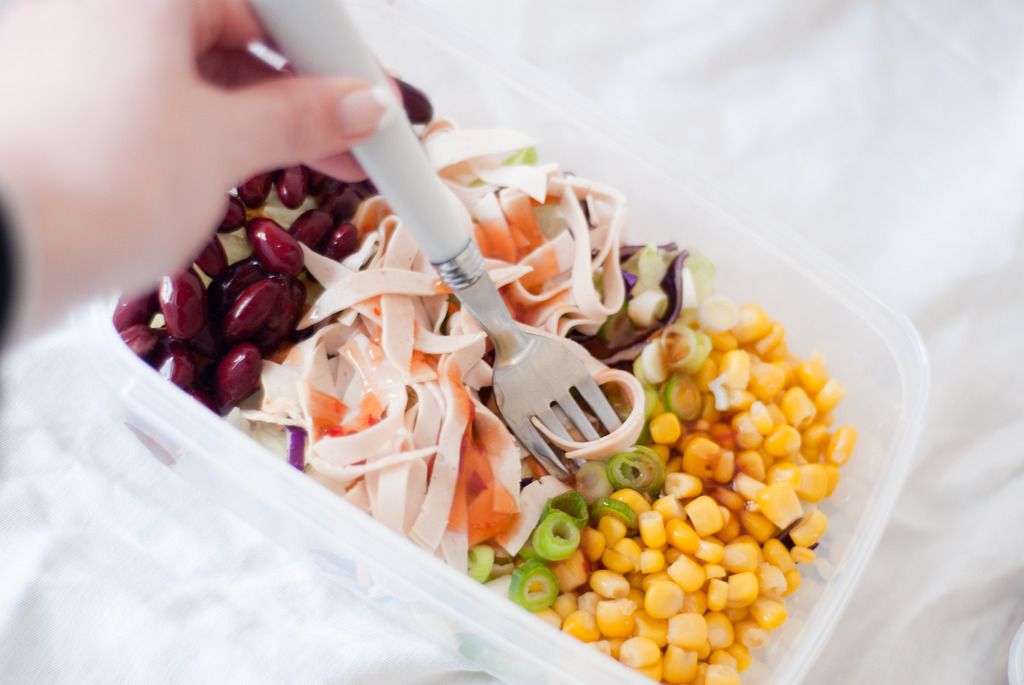 Easy "Taco" Salad
– Makes enough for 1 hungry Mama –
a couple of handfuls of mixed salad (I used a sweet & crunchy salad bag)
a handful of kidney beans
a handful of sweetcorn
1 spring onions
3 pieces of sliced chicken
drizzle of sweet chilli sauce
– Line a lunchbox with the mixed salad.
– Layer up the ingredients. Kidney beans, chicken, spring onions and sweetcorn.
– Drizzle over the sweet chilli sauce.
– I may have also added a drizzle of mayo (I couldn't resist!)
This salad is perfect to make ahead in the morning for your lunch or during nap time!