Weekly Meal Plan #33
Happy Monday! These weeks are flying by at the moment and this week I'm determined to get myself organised. On Saturday I met with
Georgia,
it was so good to meet a fellow creative and I left our get together feeling inspired and ready to go out and achieve exactly what I want to. I've got some big plans and I'm hoping I can pull them off! This week already looks like a busy one!
As for #mealplanningmonday last week was another good week with slightly less link ups than usual. I'm hoping we can go back up to 20 again this week. Head on over to
Kirsty's blog
to see all the details about it! You can link up below and don't forget to grab a badge will your here too!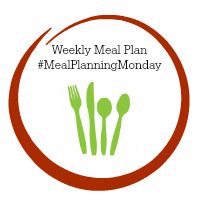 As for our weekly shop, we went to Tesco as it was on the way home this morning. I did have the luxury of doing it by myself as Edith fell asleep in the car, so my husband waited in the car with her. The total came to £38.49. We did have a few extras added on because we have vowed not to have takeaway this month, so I bought some pizzas and chips to stick in the freezer and if we were having a lazy day we could then use them instead of wasting £10/£15 on takeaway! I also took full advantage of the reduced baby snacks. They had end of lines down to 13p so of course I snapped up as many as I could. Our baby snack cupboard is now so full we won't need to buy any in a long while!
As always my Pinterest board full of the inspiration behind some of the recipes is here. And my newsletter is going out at 11am this morning, so make sure you have subscribed to that here.
This weeks meals are:
Chorizo, peppers and halloumi bake,
Red pepper, mozzarella pasta.
Chicken and mushroom pie.
Chicken fajitas.
Tuna salad wraps with homemade chips.
What's on your menu this week?